Coxo H15-TP LED Dental Turbine and Generator
PRODUCT DESCRIPTION:
Download the documentation here:
Declaration of product conformity
The LED dental turbine is equipped with Myonic ceramic bearings made in Germany, more durable, quieter.
Because we want to provide you with the best dental equipment specifically for your needs, we also offer consultation when purchasing!
Coxo dental turbines are ISO certified and CE certified according to European standards
CHARACTERISTICS:
Compatible with any dental unit, self-illuminating, also works on units not equipped with fibre optics.
Perfect stability and superior performance.
LED light source, superior brightness, longevity of 10000 hours.
Unique electric generator, little air can generate enough power.
Get to the treatment site more easily.
More visibility.
Torque head for more power.
1 year warranty including bearings.
TECHNICAL SPECIFICATIONS:
Dental turbine with 3 water spray holes
Pressure:0.25~0.27Mpa
Rotational speed: > 300,000rpm
Cutter clamping system: push button
Cutter dimensions :1.59mm~1.6mmx21mm~23mm (diameter x length)
Silent turbine: < 68d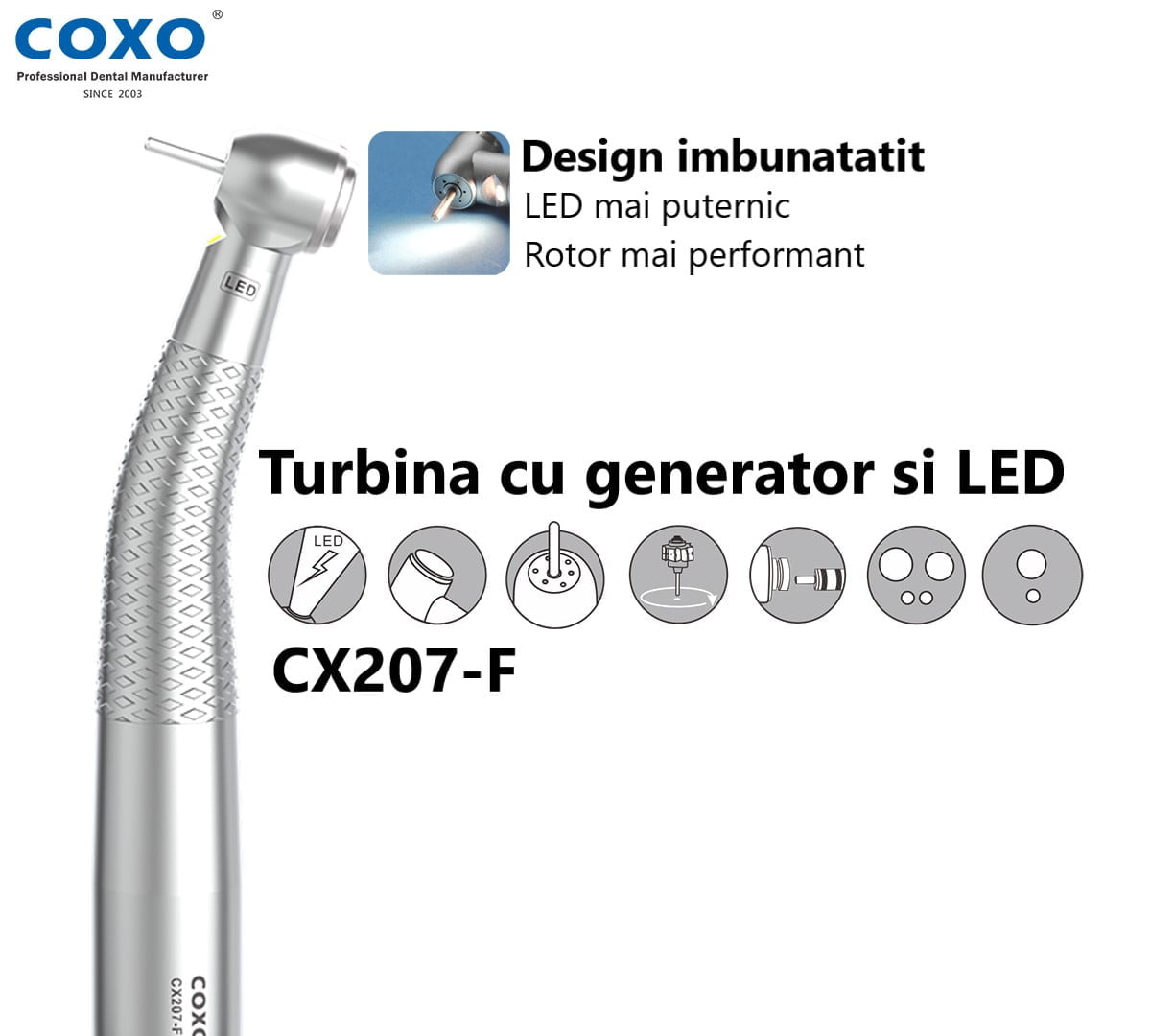 Do you want a quality LED dental turbine to help you in your dental procedures? DENTEQUIP consultants offer you the support you need to purchase the best dental turbine for you.
Dental turbines are the most commonly used instruments in dental practices. That's why it's important to make the best choice when buying a dental turbine.
1. Budget – we all have a budget when buying dental equipment for our practice. That's why at DENTEQUIP you will find a wide range of dental turbines for every budget.
2. Performance – depending on your needs – look for dental turbines that give you the performance you need.
3. Warranty – being the most used instrument in your dental practice, you should choose the dental turbine that offers an extended warranty including bearings.
4. Manufacturers – depending on your preferences, you can choose the dental turbine from different manufacturers on the market.
Coxo Medical LTD is a well-known manufacturer of dental equipment in Europe. Manufactures a wide range of high quality dental turbines, high performance contra-angle parts, straight parts, pneumatic and electric micromotors plus much more.
All Coxo dental turbines are ISO quality certified and CE certified according to European standards.
Coxo Medical LTD manufactures over 50 models of dental turbines, contra-angle handpieces and many other medical equipment containing parts imported from Japan, Korea, Germany. Every COXO product is carefully crafted. Coxo focuses on both design and material selection and the best possible production of dental equipment.
The main products from Coxo are: led dental turbine, contra-angle and straight handpiece, electric and pneumatic micromotor, apex locator, caries detector, etc.
That's why if you are looking for a quality dental turbine or handpiece to help you in your dental interventions, DENTEQUIP offers you the whole range of Coxo dental turbines and the range of COXO handpieces plus many others.
Guide to sending equipment for repair under warranty/service:
If you are certain that your equipment falls within the warranty conditions and period:
1. You can send it with a description of the defect to:
DENTAL EQUIPMENT STORE S.R.L., Str. Aries, No. 3, Timișoara, to the attention of the Warranty/Service department, via the Fan Courier courier.
You can call DENTEQUIP on the telephone numbers 0770 713 820/0772 047 330/0725 724 858 and request the collection of the package from your address, the cost of transport being borne by DENTAL EQUPMENT STORE S.R.L, mentioning that it is an equipment for which you are requesting a guarantee.
To avoid possible problems regarding compensation for parcels damaged during transport, we recommend insuring the parcels at the value of the purchase invoice. Please pack the equipment properly.
2. You can hand it in personally to the Service/Warranties Department, from Monday to Friday, between 9:30 a.m. and 6:30 p.m.,
You can check whether or not the product is covered by the warranty and benefits from shipping support, through the contact form or at [email protected].
ATTENTION: If the warranty request is unjustified (functional product), the applicant will pay the round-trip shipping charges for the products and any diagnostic costs (determined by the Service/Warranty Department).